Looking for an Asbestos Survey in London? Well look no further than Amiantus. When asbestos was first discovered, it appeared to be a miracle of sorts for the building industry, offering cheap, quality insulation and being malleable enough to be put to use in almost any circumstance. Once the substances' harmful effects had been identified, it took until 1999 for it to be banned completely. As such, if your premises were built before 1999, there's a good chance it contains asbestos, and the law now states a full understanding and management of this is imperative. Here at Amiantus, we're proud to offer a comprehensive asbestos surveys in London that deliver the details you really need, alongside a range of support services to help you get fully compliant.

Comprehensive, Reliable Asbestos Surveying
As we don't undertake any asbestos removal work ourselves, our service is based entirely on delivering a quality, reliable survey, making us completely impartial as well. With a fully detailed, coloured and bound report sent out on completion of your survey, you'll have all the information you need to form your 'Duty to Manage Asbestos'. All our surveys are carried out in accordance with the requirements of the Health and Safety Executive guidance document HSG 264 Asbestos: The Survey Guide, while our samples are analysed at a UKAS accredited laboratory. We use only the latest techniques in procuring samples for 100% accuracy in your report.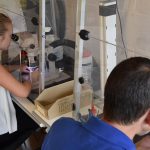 Asbestos Containing Materials Management Guidance from Amiantus
Alongside our asbestos surveys, we can work with your London staff to implement an effective management programme, and also help with updating your records and your existing management plan, so you can rest assured you're compliant. We also provide solutions for Risk Assessment and Management of Asbestos Containing Materials found throughout your site. Call our friendly, knowledgeable team today to find out more about how we can help, or book in your asbestos survey with us!

Why Choose Amiantus for Asbestos Surveying
Many companies carry out asbestos removal as well as asbestos surveying as part of a single package. At Amiantus, we are not involved in asbestos removal and therefore, do not have a vested interest in the advice and recommendations we give.and as such we only provide asbestos surveys, consultancy, asbestos awareness training and UKAS Accredited laboratory analysis. This means we can deliver a dependable and impartial asbestos survey report, that gives you the information and the records you need to assist you with your 'duty to manage asbestos'.

The Latest ACM Identification Technology
We use the latest sampling techniques to discover any Asbestos Containing Materials, and are strictly compliant with the Health and Safety Executive guidance document HSG 264 Asbestos: The Survey Guide's requirements. Upon completion, you will receive a bound and full colour report, fully detailing our findings and that may be used as the foundation of your 'Duty to Manage Asbestos. With Risk Assessment and Management of Asbestos Containing Materials support, Asbestos Awareness Training, and more, give us at Amiantus a call today for all Asbestos related enquiries in London. Our friendly team are sure to be able to help!

London Office
Units 8 & 9, Cannon Lane Industrial Estate, Tonbridge, Kent, London, TN9 1PP. Telephone: 01993 868899 Fax: 01993 969080 Email: kent@amiantus.co.uk Contact: Roy Pearce